RESHAPING THE ORGANIZATION TO PERFORM
THE CUSTOMER'S WORK

[ The best change management occurs before change occurs ]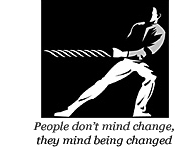 High-Yield Methods is highly sensitized to the organizational impact of process and technology change. The last thing we want to hear is, "They'll do it because I tell them to." Because they won't. Not rank and file workers; not supervisors; and often not management either. Employees at all levels need to feel they have a say and a stake in their "to-be" work, or else they'll cling to "as-is" habits.
We start change management by assembling a cross-functional process team. Team members come from key impact areas and from different levels within the organization. People actually doing the work contribute far more to process redesign than people managing the work. The team does need a management person or two, including a team leader acting as liaison with the executive sponsor (who must be a C-Level executive for enterprise process redesign).
Team members reach out to their colleagues and reports to broaden the circle. The more people providing input, the better the outcome – both process-wise and in preparation to change. With a wide circle of people involved cutting across functions and levels, employees start feeling a sense of ownership. Far better that it's their change than ours or something management imposes.
Change readiness. When our client implements new process and technology, employees are ready. "No surprises" might be our motto. Change is hard enough without feeling blindsided. So we while we're designing new process and then conducting technology searches, we're also working hard to create organizational readiness for change.
Sometimes, when changes come they almost feel after the fact.
For more on change management, please read or download HR is a Major Player in the Migration to Customer-First Business...or Should Be.