THE PROCESS OF BECOMING CUSTOMER-CENTRIC

[ You provide the commitment; we'll provide the road map ]
Customers are rewarding customer-centric companies with their business. But becoming customer-centric can be a long road. Most companies attempting the journey turn back – or take shortcuts that turn into dead ends. But not our clients.
High-Yield Methods understands the process of becoming customer-centric. We've been successfully guiding companies along the customer-centric path for over 15 years. We know the way. And we know how to avoid potholes and low bridges. We can get you there – safely.
Process is the lynchpin: Most of our clients have already developed customer-centric business strategies. If not, we'll help you develop them. But most of all, organizations need help implementing these new strategies to convert intent into action.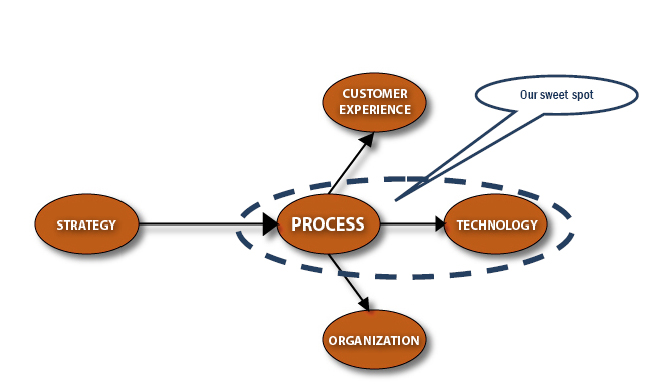 Redesigning process "outside-in:" Doing the customer's work requires redesigning process, starting with points of customer interaction and working back towards internal functions. Because the new work differs so much from the old, enabling it requires technology changes. And the combined effect of work and systems changes leads to organizational changes to make sure the right people and functions are doing the right work.
Go to Designing Process to learn how customer-driven process design creates a unique roadmap for each company to achieve customer-centricity, Or, if you haven't yet formulated into strategies your customer-centric direction, go to Developing Strategies.